To All Students

Welcome to Shama-Bhakti Yoga Centre! We are glad that you have chosen to begin your yoga journey with us.
 
Whether you are here to get back to fitness or get back to a deeper part of yourself, we can certainly assist in all your needs.
 
Our classes range from beginners to advanced students and teachers. The schedule has classes that will guide you through the process of developing your mind, body and soul.


Our classes are based on the Ashtanga Vinyasa Yoga system.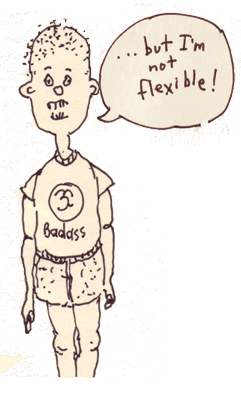 For beginners and new students to the studio, this might not mean a lot. That's fine. Suffice it to say that all physical posture-driven yoga practices, otherwise known as "Hatha" yoga, use the same postures to bring about health and well being.

The only differences are the way in which the asanas (postures) are delivered: what parts of the practice of yoga as a whole are emphasized, what is left out, what postures are used when, how breath is used or not, etc.


You don't have to be flexible to start classes, we will take care of that! At Shama-Bhakti Yoga Centre we focus on developing a beginner's flexibility through the practice of movement with breath (vinyasa). In beginners and basic classes we will work on this technique which will not only improve the flexibility and strength of the body, but also, the mind.

Beginner/Basic classes - In the class schedule you will find:

⇒ ShamaPrana 1, 1/2

these classes teach the basics of movement and breath
slow and breath-full Vinyasa class that can only be described as a moving meditation
perfect for beginners
perfect for anyone who is working with an injury
perfect for athletes of any sport
prepares you for all other classes at the studio
a complement to a more vigorous Ashtanga and Vinyasa practice
good for anyone who has not done a lot of yoga postures
introduce you to, and take you through some basic yoga moves and postures
assists in helping you/your body become more familiar with yoga
good for All levels
These classes are available on: Mondays at 8:30pm.

⇒ ShamPrana 2

a relaxed Vinyasa class and a step up from 1 and 1/2
It focuses on core-body strength
Great for everyone who does any type of yoga practice or sport
Good for All levels
These classes are available on: Wednesday at 8:30pm and Fridays at 10:30am.
⇒ Athletes – (see also ShamaPrana and SB Ashtanga)

Depending on your fitness level, what you would like to achieve, and if you would like yoga to be an integral part of your life, depends on which class you join.

Please read the points under each class description heading.
These classes are based on the Ashtanga practice. They are designed to take you from beginner to basic/intermediate practitioner. This is achieved with detailed instruction and hands-on adjustments when appropriate to give the student a glimpse into their body just a little more.
SB Ashtanga is available to anyone whether you've done yoga or not. It is an open class. Our philosophy is, a mixed class is beneficial for all whether you've been doing yoga for a while or not at all. The class is open for anyone to join in whether you are a seasoned practitioner or a beginner.

These classes are available on: Thursdays at 8:15pm and Sundays at 11:30am are for beginners and basic level practitioners.
If you have any questions about which classes to attend, please ask the teacher.
If you are not a beginner then you can come to any class, even the beginner classes. The studio has a number of classes to choose from depending on what you have in mind for your practice.

Basic - Intermediate classes:

⇒ Ashtanga Full Series/Mysore/Mentored Self Practice

led and self-practice classes for the aspiring yogi! Mysore or self-practice is a traditional way to practice yoga and can help work out the kinks of any practice.
Ashtanga is the grandfather of 'Vinyasa', 'Power', 'Flow' etc. It is a beautiful practice and if you have been practicing without experiencing the Full Series then it's worth trying out.
This class is available to anyone who has some yoga background and has been attending the SB Ashtanga classes regularly.
⇒ ShamaPrana 2, ShamaLama Pump, ShamaLama Ding Dong, and Ashtanga Full Series

all maintain and build your practice. Each of these classes emphasizes and works on different aspects of the body, mind, body-mind, and spirit. It is a great practice to do all three with SB Ashtanga and ShamaPrana2 to round it out.

Look on the class calendar for times and days.
If you have any questions about which classes to attend, please ask the teacher.