Event Info

(Please see "Guidelines for Registration" below)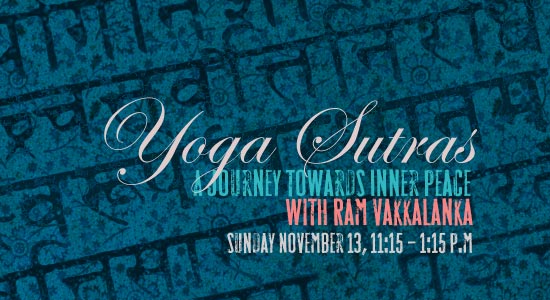 Yoga Sutras: A Journey Towards Inner Peace
Sunday November 13, 11:15 – 1:15 p.m

Yoga is a school of philosophy as well as a system of practical application. Yoga helps us connect with our heart, discover the inner core of Bliss and live in perfect harmony with the external world. The Yoga Sutras by Patanjali is a great starting point for anyone wanting to explore the Yoga philosophy. The Yoga Sutras is a time-revered ancient work, more relevant than ever to today's society and life style. In this workshop, we will touch upon the six most ancient philosophical schools of the world, explore the Yoga philosophy and its eight limbs,the different layers of Consciousness and learn - thru humor and current examples - how to live the principles of Yoga in our day-to-day lives and find inner balance and harmony.
Cost: $40+hst

About Ram Vakkalanka
Acharya ("Professor" in Sanskrit) Ram Vakkalanka is a Sanskrit expert, Yoga philosopher, Kirtan artist and Sitar musician who translated many works from Sanskrit to English, the latest being the Yoga Sutras of Patanjali. He conducted many workshops on various topics of Yoga philosophy, such as Yoga Sutras, Bhagavadgita, Upanishads, Tantra, Mudras, Nada Yoga and Vedanta throughout North America. Many yogis/yoginis, corporate executives and media professionals study Sanskrit and Yoga philosophy under his guidance. His articles on Yoga philosophy appeared in various publications and his talks are broadcast on several TV channels. For more about Ram, visit www.aksharayoga.com.
Register at the Shama-Bhakti Yoga Centre. Please send an email to convey your interest. Payment must be received to hold your spot.

Payment:
1. Pay at the Shama-Bhakti Yoga Centre. (Cash, cheque) Places will go quickly, bring payment ASAP to hold your spot.


Meditation Retreat 2012
Start your New Year off with silence and peace. This 4-day retreat begins at 5pm, January 1st and continues through until Noon, January 4th.
The Breath of Resolution: The New Year is a perfect time to take a moment. It is natural for us to want to stop if just for a few days to take a breath. This is the breath between this year and the next. Come and create the space between the worries of yesterday and the excitement of the potentials of tomorrow. Sit and let the world come to you. Let the Divine speak. Let your dharma reveal itself to you. You don't have to do anything. It is part of the process of unfolding into a spiritual being to take the time to sit with oneself and not plan, scheme, wheel-and-deal. No worries, no concerns, just you with yourself. This retreat will start to open you up to possibilities not yet imagined.

In the schedule of this retreat, the days will consist of formal and informal sits, walking meditation, and short talks by Christine U. Open to those completely new to practice as well as seasoned practitioners. This retreat is a free-form retreat and has to be experienced! That said, the rules of no eye contact, and silence will be maintained except during question/answer periods, and private conferences with the teacher (only when necessary).

Please email or call if you are interested in participating. A deposit of $100 is necessary to hold your place. Please mail or drop off payment to the studio by Nov. 28. Full Payment must be made by Dec. 19, 2011.
Dates: January 1 - January 4
Location: 2 hours north of Toronto
This is not a "Yoga" retreat.
Things to bring: towel, comfortable clothing, something firm to sit on (Zafu, meditation bench, pillow, etc.)
Total Cost - $400.00*/person for food & lodging (3 nights) (plus hst)
*Donation to the teacher welcome and accepted.





• Please call 905.845.2332 or email to register.
• Payment accepted 48 prior to Event/Class, with exception of retreats.
• These are all Pre-Registered so you must sign up to ensure that the event/class runs.
• Events and classes subject to cancellation if minimum participant number not met.
• Registrations or cancellations accepted only more than 48 hours prior to the start date
with exception of Retreats.